Q & A With Youngest Three-Time WSOP Bracelet Winner Ever Adrian Mateos Diaz

Adrian Mateos Diaz is one of the hottest no-limit hold'em tournament players on the planet. The 22-year-old from Spain has cashed for more than $9 million dollars on the live tournament circuit, winning huge events like the 2015 European Poker Tour Grand Final main event and the 2017 PokerStars Championship Monte Carlo $50,000 super high roller along the way. Mateos Diaz exploded onto the scene in 2013, coming from relative obscurity to win that year's World Series of Poker Europe main event.
He captured his second WSOP bracelet in 2016, winning the $1,500 'Summer Solstice' no-limit hold'em event. This year he set the record as the youngest player to ever win three gold bracelets, securing his third WSOP title in the $10,000 no-limit hold'em heads-up championship.
Card Player caught up with the poker prodigy midway through the WSOP to discuss his record setting performance, how he became a poker professional and the state of poker in his home country of Spain. Check out the interview below.
Card Player: So you're making waves as the youngest player to win three WSOP bracelets at 22 years old. How is it that you were able to get so good at poker at such a young age? Did you play a lot of strategy games as a child, like chess or card games?
Adrian Mateos Diaz: When I was young my parents did put my in a chess school, but I was only eight years old and I didn't play chess for long. After that, each summer I would play some card games with my parents and Grandparents. They were Spanish card games like Mus. I was pretty good at all the different Spanish card games and we did bet small on them, which usually resulted in me making some spending money.
CP: So that is likely where you got the passion for competitive card games. How did that blossom into a poker career for you?
AMD: Yeah, I love playing cards and I always have. When I was 16 I was on summer break and saw an episode of the European Poker Tour on TV late at night. I was instantly obsessed, I started watching all of the episodes and from there I started searching online for information about how to play poker and improve at the game. At that point, I was too young to deposit money to play for real money, so I spent most of my time studying the game and preparing for when I turned 18. By the time I finally was old enough I had a good level of skill. I played live in a club in my hometown and started playing a lot online. My 18th birthday was in July and by September I had won four tournaments online, which gave me some money to have a real bankroll.
I started to play €1-€2 in the live casino in Madrid and in a month I had won big enough that I moved to €2-€4. Once again, I won big and moved up to €4-€8, which was the biggest game that was running there. It didn't take too long, only about three months, to go to the highest stakes in live cash games that I could. So I was feeling very confident.
Then I went on a run in tournaments. I won a €500 tournament, chopping for €30,000 and then I won an Estrellas Poker Tour event for €100,000. I decided to move to London to try to play poker professionally. Leaving University was hard for my parents to accept, but I told them I wanted to try going pro for a year and if it didn't work out, I would come back.
CP: What were you studying in school? That is to say, what was your plan before you decided to follow the path to poker as a profession?
AMD: I was studying economics and I was thinking of doing something in business or finance. Clearly, I like to gamble and am not afraid of risking money. That would be something that would work for me, but playing poker for a living has worked out well so far so, for now, I'm just focused on that.
CP: So you had a few good months in a row. You were only 19 when you won the World Series of Poker Europe main event in 2013. How did you go from taking a shot as professional poker to playing a €10,000 buy-in main event?
AMD: So I won that Estrellas Poker Tour event in January and then moved to London in March or April. My first month playing full time online was the Spring Championship of Online Poker (SCOOP) and I made four final tables. After that I had a good bankroll and decided to take some shots at European Poker Tour events. I didn't have any big wins right away, but then that October I played the WSOP Europe main event, and I won. (laughs) So that was pretty sick and I had a huge bankroll after that, and I've been able to play most everything I want to since.
CP: So you beat a field of 375 players in that event to win more than $1.3 million dollars. There were players like Shannon Shorr, Benny Spindler, Ravi Raghavan, Dominik Nitsche and Fabrice Soulier at the final table. Did the lights, cameras and big names you faced in that event at all intimidate you?
AMD: It was cool for me, actually. Everybody told me to just relax in that situation and I didn't feel overwhelmed. I was pretty confident in my game, and I also think it helped that I used to play tennis at a pretty high competitive level when I was younger. I think that helped me understand how to be focused but relaxed in big spots.
CP: What do you mean when you say competitive tennis?
AMD: I started playing when I was 4 years old and continued until I was 18 when I exchanged tennis for poker. I was training five days a week, played 3 or 4 matches every weekend. I competed at the city level in Madrid, a big city, and a bit around Spain. I trained too much and competed too much, but I just love competition. But I do really believe it's helped me in big moments in my poker career.
CP: So you told your parents you were giving yourself a year to try poker professionally, and within a few months of moving to London you had won a bracelet and cashed for seven figures in live poker tournaments. That must have helped to simplify the decision to pursue poker as a career.
AMD: Yeah of course, after that my parents and I were pretty happy with the decision. I moved in with some other professional players in London and really worked on studying the game and trying to play as well as I could. Now I have good confidence in myself and have decided to continue to play for a living, and that brings us to today.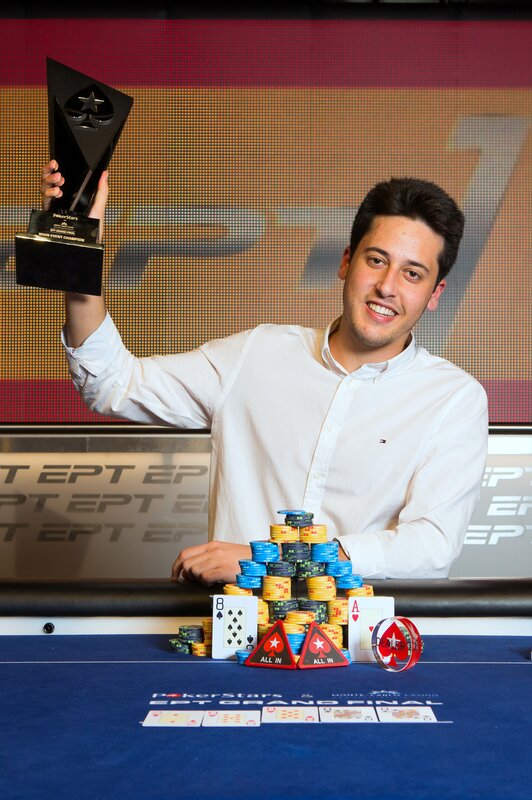 CP: So in the few years that have followed you have done quite well on the live tournament circuit. In 2015 you won the EPT Grand Final main event for over $1.2 million, in 2016 you won your second WSOP bracelet in a $1,500 no-limit hold'em 'Summer Solstice' during the first full summer you could play in Las Vegas. Now this year you took down your third bracelet in the $10,000 heads-up no-limit championship, setting the record as the youngest player to ever win three. That must mean a lot to you, only a few years after deciding to bet on yourself as a player, to set such an incredible record.
AMD: For sure it has been amazing. When I was 16 or 17 it was a dream just to play an EPT or the WSOP, and now I am here and I'm not only playing, I am winning. But I'm not satisfied with what I have already done, I'm very ambitious and I want to win more.
CP: In the past several years the poker tournament world has seen a shift, with less $10,000 main events and more small buy-in and super high roller events throughout the year. There has also been an increase in the popularity of mixed games, both in tournaments and cash game formats. So far we've mostly seen you play no-limit hold'em, are you going to try to move into the high roller scene a bit more, or maybe try out some other games?
AMD: At the moment I only play no-limit hold'em. I don't know the other games, not even the rules (laughs). So I was thinking about learning pot-limit Omaha because it is the second biggest game, but I really don't want to be a huge fish at the table. So before I ever play I'm going to need to study a lot, and currently, I'm not motivated to do that. At the moment I prefer to focus on no-limit and try to be really good at this game. I could definitely learn other games, but I think how it is right now, I will earn more if I spend the time I would use studying other games working on no-limit hold'em and playing.
CP: It seems that when poker boomed, the stars at the time were perceived as the best in the world for quite a while. In recent years it seems there are more frequent waves of top new players emerging year after year. Players like you and Fedor Holz were not well known five years ago and now you are some of the top players. Is it harder to stay at the top of the game now?
AMD: Yeah it is, that's why I have to play study every day if I want to be at the top. I don't know if I can be a top player for even a year, let alone the next ten years. I just focus on today and tomorrow. I think it is incredibly difficult to reach the highest level in any sport or game, so I'm just going to do my best and focus every day.

CP: You are second on the all-time money list for Spain. What are your thoughts on your home country as a poker-playing nation?
AMD: Poker in Spain has big problems. There are regulations that make it so that you can only play online against other people inside the country and not against the rest of the world. That is bad because it limits the number of players and the stakes, preventing people from improving. Also, you have to pay very high taxes in Spain. As a result most of the players who would be professionals have to move to other places, like London, in order to pay lower taxes and to be able to play on sites like PokerStars.com, with players from all over the globe allowing for more liquidity and higher stakes.
As far as professional players from Spain and their level, I believe they're really good. They end up having to work extra hard in order to succeed, moving away and likely studying a lot. But the level of play for recreational players is quite low, there is a big gap.
CP: In your opinion is there any hope of the situation getting better in Spain?
AMD: Recently I heard that there might be an effort to combine the player pools of France, Spain, Portugal, and Italy, which would be bigger liquidity, which is better, but still the most important thing is to fix the tax situation. You can't win money playing poker with the taxes as they are in Spain. They need to change that, because there are young players with money who could be spending it in their home country who aren't living there now because of the current tax system. It's a big problem, but I am hopeful that someday it could improve.