Media Eyes Link Between Adelson's Trump Donations, Push For Federal iGaming Ban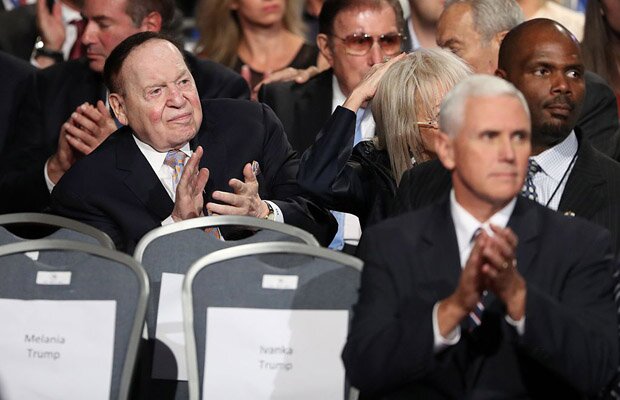 1 Adelson, Republicans, Trump and online gambling
2 Media linking Adelson donations, online gambling
3 Why Adelson is paying
4 What's next for Adelson, Trump and online gambling?
Casino mogul Sheldon Adelson doesn't like online gambling, and has been pushing that agenda for some time. The gambling media has known this for years.
But now the mainstream media seems to be catching on, as well, as the New York Times drew a connection between Adelson and efforts to ban iGaming.
Adelson, Republicans, Trump and online gambling
President Donald Trump has had more important things to do in his first 100 days in office, obviously, than to deal with any gambling issues.
But that hasn't silenced chatter from the federal government, as Attorney General Jeff Sessions is rumored to be revisiting the Department of Justice's stance on online gambling. That would involve taking a look at a 2011 DOJ memo saying the Wire Act only pertains to sports betting, and not other types of wagering. That memo helped pave the way for regulated iGaming in the US.
Some key Republicans in Congress have been pushing for a federal ban through legislation. To date, various iterations of the Restoration of America's Wire Act have failed to gain much traction.
The only person really pushing for any change on online gambling at the federal level? That would be Adelson. And the Las Vegas Sands chairman is spending money, hoping to influence policy on issues he deems important.
Media linking Adelson donations, online gambling
The New York Times didn't mince words in a recent report about Adelson's $5 million donation to Trump's inauguration.
The casino magnate and philanthropist Sheldon G. Adelson wants some big things from the Trump administration: banning the online poker sites that compete with his luxury casinos, for example, and moving the United States Embassy in Israel to Jerusalem.
The donation came with access. More from the NYT:
Perhaps no donors were granted greater access than the Adelson family. Mr. Trump singled out Mr. Adelson and his wife to thank them for their support during a luncheon honoring congressional Republicans on inauguration eve. The next morning, the pair sat along the aisle just a few rows back from Mr. Trump on the inaugural platform as he took the oath of office.
Why Adelson is paying
If you think that access is just because Sheldon likes hanging out with Donald, I have a bridge in Brooklyn I would love to sell you. Those donations come with the hope of shaping policy on Israel and online gambling.
More from the Boston Herald:
Trump's biggest check came from casino magnate Sheldon Adelson, who pitched in a staggering $5 million. Adelson, a leading opponent of online gambling, is looking to hit the jackpot. In January, Attorney General Jeff Sessions said he would revisit a 2011 U.S. Justice Department ruling that allowed New Jersey-based casinos to offer online gambling.
Adelson had already backed Trump, to some extent, during his presidential campaign. But the newest reports paint a clearer connection between the two.
MSNBC's Hardball with Chris Matthews also bit on the Adelson donation/online gambling link:
What's next for Adelson, Trump and online gambling?
We're still waiting to hear what, if anything, Sessions has in store.
But as long as Adelson is spending money in Congress and to gain access to Trump, efforts to ban online gambling federally aren't likely to go away completely.